Hiking with my friend/web guru/mountain photographer Jack Brauer, Jack asks "what do you think it is that makes aspens so brilliant in fall?" Jack has studied aspens as much as anyone I know, so I figured his query was rhetorical. But we launched into a discussion about leaves, mountain light, and complimentary colors that lasted about a half mile, everything leading to the same place – translucence holds light while letting it pass through, giving aspens a luminescence unlike anything else in our part of the natural world. Autumn is an ephemeral miracle. While we're still gobbling up the last of Palisade peaches, aspen trees are changing to gold, orange, and deep red. Some aspen colonies (aspens are a colonial species sprouting from the same source) are withering with fungus, their leaves dropping early by our human calendar, adding a smell of pungent loam to forest walks. Songbirds are gone and we await the arrival of winter raptors and diving ducks. I look up each day, hoping for a glimpse of sandhill cranes headed south on a migration course, riding thermals to their southern home at Bosque Del Apache NWR in New Mexico. It's a remarkable time of year alright; so predictable, yet each day holds a promise to awaken our senses, all of them.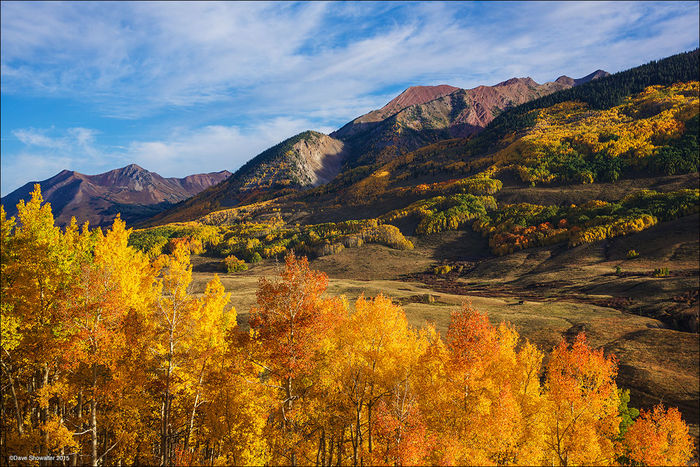 Mountain goats are shedding their summer coat as their woolly double winter coat comes in, enabling them to survive a harsh winter above timberline. Mount Evans Wilderness, CO
Alpine tundra changes to a burnt red dotted with golden willow. Mount Evans Wilderness, CO.