Ten or twelve years ago, we studied photos of a trek in Iceland, colors of the rhyolite lavascape with rising steam and small trekkers moving through this otherworldly land staring back at us. That was the beginning of our growing fascination with Iceland; it just took us awhile getting around to making the journey. After exhaustive planning (all by Marla), an easy seven hour flight to Reykjavik, and half a dozen bus rides, we were dropped off by the bus equivalent of a monster truck at Landmannalugar, the start of the infamous Laugevegur trek; the landscape draped with thick clouds, land dotted with colorful tents at this launching, and finishing point. As we set up our green Nemo tent, others were gathering giant rocks to stabilize their tent setup, standard practice to prep for an Icelandic storm. Later on in the trip, we would see the logic of the gathering of boulders to hold down a 5 pound nylon structure with thin aluminum beams. Soaking in the Landmannalaugar hot springs, a cool stream fed by a scalding geothermal spring, seeking that perfect balance of hot and cold, yin and yang, suddenly immersed in this alien landscape, all the little travel details drifting away, we would be on the Laugevegur trek in the morning.
Moving through the lava field en-route to Hrafntinnusker, a steady wind blowing sideways rain, we followed the well-cairned route non-stop to the hut/camp, draped in pewter clouds.
Camp one at Hrafntinnusker is on a mountaintop, but Laugevegur didn't reveal her beauty right away.The camp rings of obsidian stone help buffer high winds that are common in the Icelandic Highlands.
Marla crosses a small stream on day two, a trek from Hraftinnuskercamp to Alfvatn. The stubborn cloud ceiling began to lift.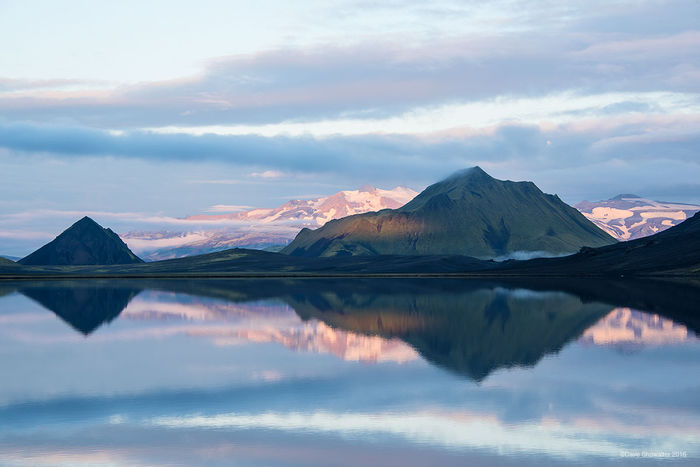 By day three on the Laugevegur Trek, we'd found a rhythm, a pair of trekkers part of the daily pulse on the popular trek. A practiced routine of home-prepared backpacking meals, setting up camp, sleeping off jet lag, and moving nomadically, a dot on the map both daily goal and compass as excitement built for surprises that await. Everything is new. We had read about the canyon near Emstrur camp when a fellow trekker told us how cool it is, worth the walk over there. With camp set up after a 12 mile day, trekkers piling in to the crossroads camp, we took our evening walk over to "M" Canyon, Icelandic names are just too long for more than the first letter. M, and its rich colors blew our minds.
We would finish the Laugevegur trek at Porsmork the next day, lounging on soft grass, gorging on potato chips from the little camp store, the trek a blur. Ahead, two weeks with no set agenda, a few more bus trips, Reykjavik, a rental car, driving the 800 mile highway one that encircles the country, a couple more backpacking trips…
Marla descends Asbyrgi Cliffs on a short via ferrata section with fixed rope, stairs and steps. We had trekked from Dettifoss to Asbyrgi along the River Fjollum, this descent adding spice to the finish.
There comes a point on each journey that gives pause, maybe a moment to better understand how some of the pieces fit together, our place in the world, perhaps epiphanic. Crossing Snaefellsjokull National Park on a rutted, lava rock studded road led to the edge of the namesake icecap, moraine fingers advancing where ice was not long ago. We knew the numbers, the icecap shrunk from 12 square kilometers to 9 in a decade; but seeing is something altogether different, an icecap so significant that the park has jokull (glacier) in the name as Icelanders wonder if they'll still call it Snaefellsjokull when the ice is gone. We changed our plans when Marla said "we have to go up there". I agreed and we climbed steadily, seeking the highest patch of lava moraine next to the ice, inspecting a crevasse. Studying the ice in silence while watching a snow machine carrying tourists climb slowly up the glacier, we looked into the face of anthropogenic climate change – not always easy to see because the story is written in vanishing ice.
Clean, green, stunningly beautiful Iceland is at once everything familiar and unknown. Iceland's not particularly hard to get to, the flavor of the month (for tourism) nowadays as one bus driver described it, yet you can still get off the beaten path. It's expensive by any measure, but why not? Iceland is a rock between the Greenland and North Atlantic Seas with a very short season for tourism, and growing vegetables for that matter. Soaking in the Blue Lagoon, one of the attendants from the U.S. told us "Iceland never really leaves you. You'll get home and won't be able to stop thinking of Iceland. You'll come back, buy a home, and spend at least part of the year here in Iceland." We started planning the next trip to Iceland before we left for home.