Where to go on the next big trip? We saved up and visited our mythical adventure places list many times over, mostly agreeing on the top five, and it came down to the Cordillera Huayhuash (whywash) in Peru, one of the top treks in the world. The Huayhuash is remote and high, and despite being only 30 km long, the range boasts six peaks over 6,000 meters and more than 600 glaciers. The infamous Huayhuash Trek circumnavigates the range clockwise, and generally takes 10-12 days to complete. It was an easy decision to contact Victor Sanchez, owner of Peru Mountain Explorers to arrange a custom trip. We had trekked with Victor in the Cordillera Blanca back in 2007 and told him that we'd come back to trek the Huayhuash. We set up the all-inclusive 17-day trip with Victor, with plans to add a climb of (17,555′) Diablo Mudo near the end of the trek. As we trained to be physically ready, we received the shocking news that Victor had been killed by an avalanche on Alpamayo while putting up a route for clients. Office Manager Edith assured us that Victor's wife, Alicia is dedicated to running Peru Mountain Explorers in Victor's honor and that our trip would be all set, Mrs. Haydee would meet us in Lima, everything is fine. We went to Peru.
"On Nevado Pisco With Victor Sanchez, 2007"
We thought about Victor a lot – 33 years old, a wife and two daughters, a successful business that he was just getting started when we trekked together. He was a good man and we were able to tell him that when we were getting our itinerary together. In those uncertain days leading up to the trip, Marla and I talked about other folks in the extended Peru Mountain Explorers (PME) family, the Pachamanca celebration after Pisco, the warmth and kindness we'd experienced. None of that had changed. We were met in Lima by Mrs. Haydee, then escorted to the airport the next morning for a flight to Huaraz. Edith and Alicia were waiting with the PME van and excited to have us back again. Every detail was attended to and we were delivered to the San Sebastian Hotel, a huge step up from our last visit. We would go for an acclimatization hike to lake Churup (14,700′) with Emerson, then head for the Huayhuash with Marco as our guide.
"Pocpa Girls"
From Huaraz, our route took us to Chiqiuian, Llamac, and Pocpa on a combination of twisty two lane highway through small villages and steep drops on switchbacks in a canyon that eventually led to Pocpa, where we camped in a soccer field. These girls were swinging on the gate and very happy to be photographed.
Marla with Carlos, a 78 year old sheepherder that we met on the first day of the trek. He said we looked very young. See you next time, Carlos!
On the way to Mitucocha Camp, we passed our first test, 15,400′ Cacanan Pass, the first of daily high passes. Marla was able to call her mom, "Effie" from the top, the Huayhuash was unfolding before our eyes, everything was indeed alright.
Marla and our guide Marco trekking above Mitucocha camp.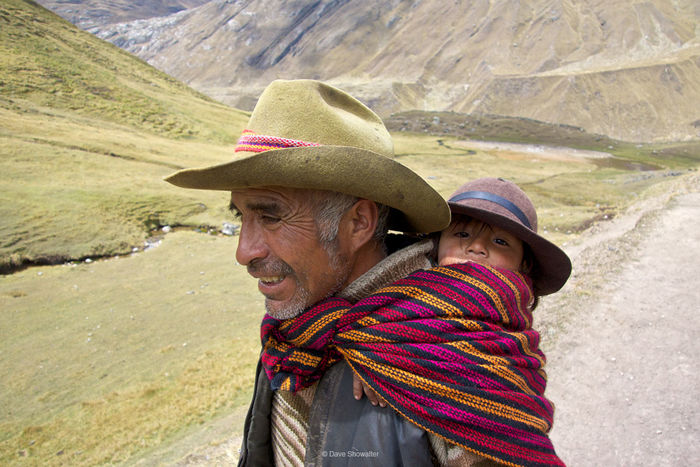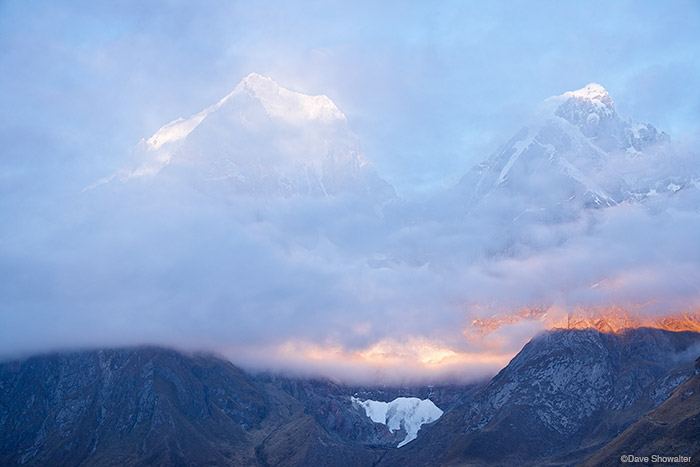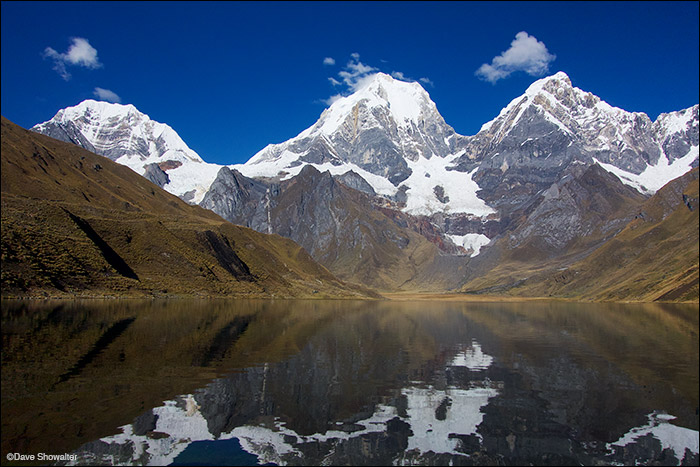 Although thunder snow and wind weren't welcome on 15,900′ Siula Pass, there was a peacefulness to a gentle snowfall on our way to Huayhuash Camp.
"Snowy Huayhuash Camp"
A chilly night was buffered by the thin layer of ice on our tent that kept us warm inside. It all burned off rather quickly and we were steaming while heading up (4750m) Portachuelo Pass. By now our routine was set: At 6:15 Valentine brought coffee and tea to our tent, followed by washing water from Rolando at 6:30, and breakfast in the dining tent at 7:00. Then, we'd hike over a 15,000′ or so pass on our way to the next camp. Rinse, repeat.
"Team Huayhuash" L to R: Guide Marco, Chef Valentin, Donkey Driver Rolando. These guys are pros.
"Rolando with El Mula"
"Football at 14,000 Feet"
Football (soccer) is played everywhere, including this lumpy field next to the Viconga hot springs, where we had the lone shower of the trek. These guys play hard, and Rolando explained that they always play for money.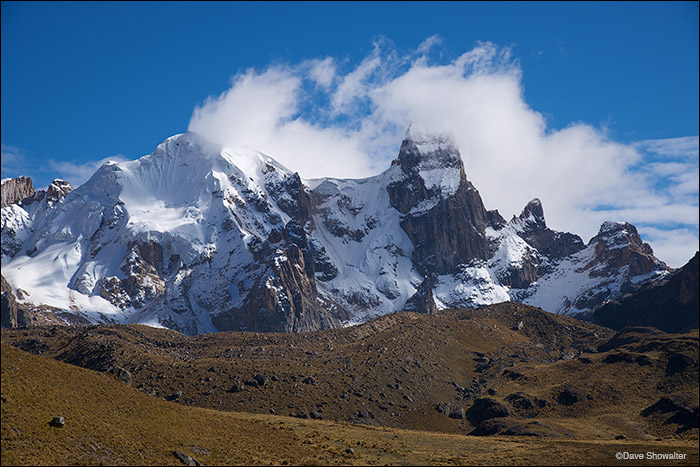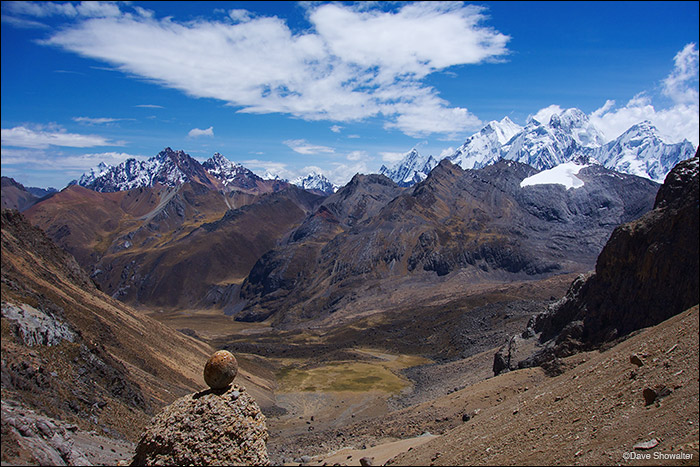 We took it slow over Punta Cuyoc – despacio, despacio – and had no troubles. The pass is a moonscape with hoodoos carved by wind and freeze/thaw cycles over eons, and the massive glaciers of Cuyoc (5560m) on the north side, quite a contrast.
Valentin has a knack for picking the most picturesque lunch spots!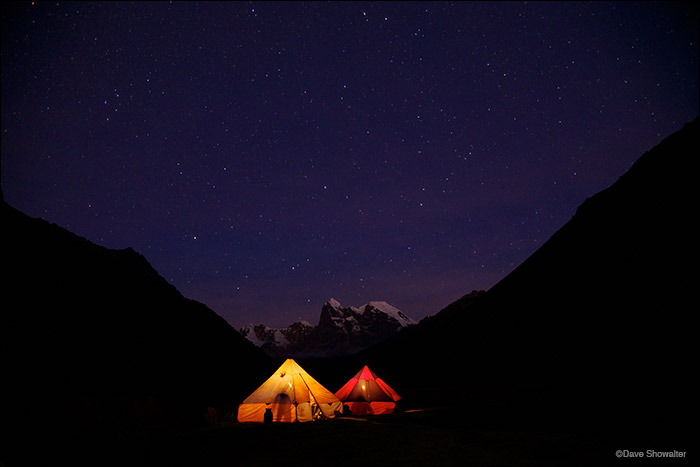 "Donkey Drivers" Our pal Rolando is on the left.
Marco got special permission for us to camp at Laguna Sucucocha where we staged for a climb of Diablo Mudo. (Mute Devil) Loose rock on the narrow ridge (in the dark) made the approach pretty sketchy.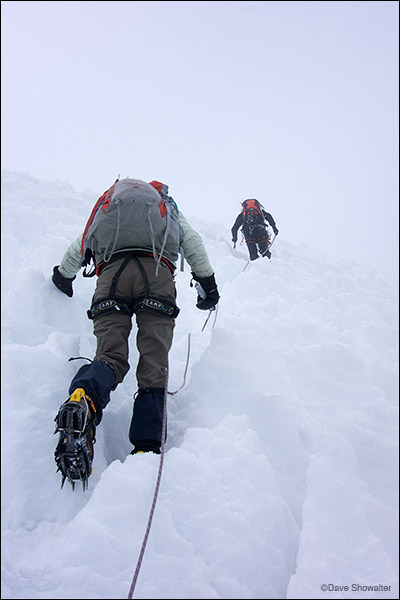 "On Belay" An interesting twist – on belay while climbing. There is a short, steep drop before ascending the final pitch on the glacier.
Marco Reyes is a certified International Mountain Guide – we were in very good hands. He also assured us that the view is normally amazing, but we happened to be in a cloud.
It was cool to view the range from the Jahuacocha side, like a reflection in a mirror from the first days of the trek. We had a rest day here, ate trucha that Rolando caught by hand, and reflected on a trip that had so many unexpected surprises, yet ran smooth throughout. Travel in Peru is pretty easy and they're on central time, so there's no jet lag. Communicating with locals es no problema, even with limited Spanglish like me; and you can hike through these great mountains with some preparation for high altitude. We missed Victor, yet we had a lot of fun with our team, and we're inspired that Alicia will continue running Peru Mountain Explorers, now a first class company. We kept moving forward to the finish in Llamac, where of course the Santa Rosa Day celebrations were underway. Parades! Musica!
The whole team at Juracocha – we even had an expedition sign with our names on it!
Thanks Poj for a wonderful journey – it's always a hoot with you!