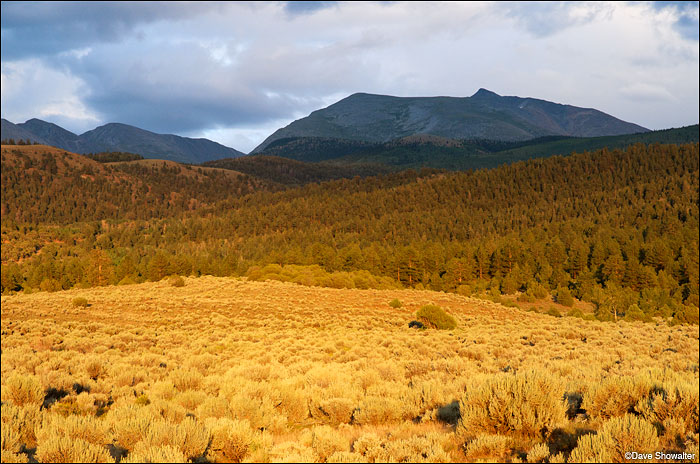 The 3rd and final chapter of this Sangre De Cristo story…
I wasn't sure we'd ever be here, but Annie invited us via Steph, who's down to her last three 14ers, and well, here we are outside of the gate to Cielo Vista Ranch with plans to climb the only Colorado 14,000 foot peak on private land. We're just a few miles from New Mexico and there's a festive atmosphere, with climbers setting up camp, cooking, and talking about 14ers. A lot of climbers save this one for the end, choosing to climb all of the free mountains on public land first. This one costs $100 for camping and a day of climbing – another $50 if you want to tackle Red Mountain, and surrounded by like-minded folks, I'm warming to the experience. There's no logical explanation for paying to climb, Colorado has thousands of beautiful peaks on public land; but if you want to summit all of the 14ers, you'll wind up here eventually. Landowners these days are diversifying all sorts of ways, and we had just come from Zapata Ranch, where dude ranch hospitality compliments bison and cattle ranching. Cielo Vista opens the gates of the 77,500 acre ranch to paying guests climbing Culebra and private elk hunts in fall. Hunters pay ten large for the chance at a trophy elk. Our plan was to camp out as guests of the ranch, meet Carlos, the ranch manager at 6 a.m. when he opens the gate, take care of formalities, and climb the peak the next day.
Marla, Annie, and Mike from our group, along with Brian (greenhouse guy on 14ers.com) and Jay (slow-moving fun-seeker on 14ers.com) at dinner time outside of the Cielo Vista Gate.
Ranch Manager Carlos stopped by the night before and talked to the climbers queued at the gate. No one messed with his truck 🙂
Cielo Vista provides a camping area with Port-A-Potty for climbers.
Carlos explains climber fees and trailhead access to the climbers at ranch headquarters. Carlos arrives at 6 a.m. sharp and leads the group through the gate to this staging area where we handed in our waivers and paid the fee.
Mike, Annie, and Marla silhouetted against rising clouds in morning light. Read further to find out about the cowboy garb.
Ascending the harmless snake, the translation for Culebra and named for the ridge that winds to the summit. We reached the high trailhead and immediately started climbing the serpentine ridge. I quickly realized there are no trails, you just make your way up the steep tundra slope.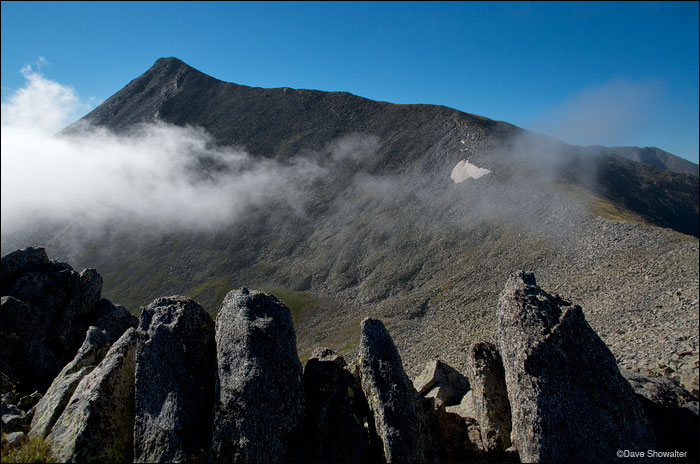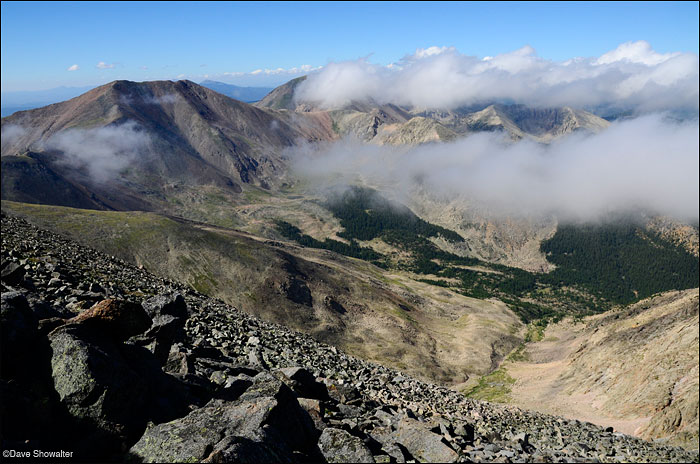 Annie and Mike Goodwin climb on talus and Boulders near Culebra's 14,069′ summit.
Talus rock standing on end marks the summit of Culebra Peak (14,069′).
Katie, Steph, Mike, Annie, Marla, and Me on the summit. By wearing the cowboy gear, we were helping Katie in support of 14ers For Freedom, supporting survivors of human trafficking. A funny thing happened up there – the aggressive marmots stole Katie's cell phone. She chased the marmot into his hole, scared him enough to leave, and got her phone back!
Marla descends 13,906′ Red Mountain with Culebra Peak in the background.
We ended the long day by descending the summit ridge, then dropping 1,800 vertical feet to the high trailhead, finishing as a thunderstorm consumed the Culebra Range. Was it worth it? You bet! While I'm sure there are fully-formed opinions about paying to climb, owning a mountain range, private land access, and the like; I'm of the opinion that large expanses of intact ranchlands, managed responsibly are rare in the West, and paying for the priviledge to climb, hunt, birdwatch, ride horses, whatever, is a small price to pay for a sustainable West. Things are complicated, especially at Cielo Vista, and I welcome your opinions.