Startled by a gnawing, scratching sound, I'm awakened from a dream of home in pitch darkness on a moonless night. I sit up and listen for a moment before realizing I'm in the tent next to my wife and we're at Crater Lake in the Maroon Bells Wilderness. With that that straight in my head, I reach for my headlamp and am pretty sure I'll see a porcupine, we have a history. There's a smell in the air like rotting bacon fat, very weird. As the light hits the intruder, still scratching the ground where I took a leak an hour ago, he turns his head that seems too small for his body and reluctantly retreats just a few steps. I hold the light on him until he disappears in the forest, ending the first of two run-ins we'll have with these peaceful, salt-seeking creatures of the night. It's the first night of a six day trip over four 12,000 foot passes (we turned it into six passes). The Elk Mountains are so spectacularly rugged and beautiful, they draw us back every year. We failed on our first attempt of the Four Pass Loop; burdened with heavy packs while cajoling our chocolate lab Toby – who carried his own pack – we simply weren't prepared. We still carried weird loads the second time around when we completed the loop in 2004. I wrote an article for Crested Butte Magazine (in '04) about "Colorado's Best Alpine Hike", and we've wondered ever since whether it's as good as we thought back then. My photo essay follows:
Starting at the Maroon Lake trailhead out of Aspen and traveling clockwise is pretty standard for the Four Pass Loop, and you can use a number of alternate trailheads. It's well-known and very popular, but you can have the place to yourself if you start early enough – 4:30 a.m. seems like a good time. 🙂 We ran into folks that were walking from Crested Butte to see friends in Aspen, an eleven mile trip over West Maroon; and talked to people from out of state who had read about the loop in Backpacker Magazine. It's impressive to see Oklahomans and Missourians cresting 12,400′ passes with heavy loads. You see it all – folding chairs, big kitchen pots, axes, saws, dogs, blankets, a full-on gypsy caravan managerie. It's also a popular long run, with trail runners seeking the challenge of a super high altitude trail marathon.
Dropping into Fravert basin over Frigid Air Pass is sensory overload, especially at the peak of green tundra season.
King Falls plunges to the meandering North Fork of Crystal River.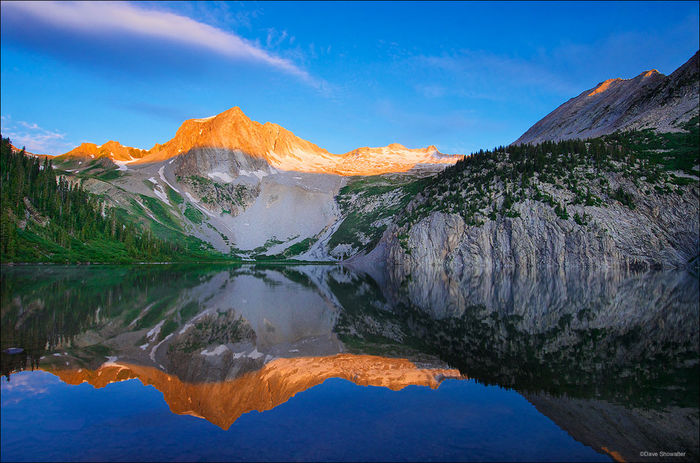 I knew from last year that porcupines like the soft rubber handles on my Black Diamond trekking poles – I like them too. While camped in Fravert basin, I carefully leaned the poles against a small tree next to our tent, thinking a big, fat porcupine wouldn't climb the miniature pine. A crash in the night, followed by gnawing and pole-humping sounds, along with that nasty bacon-y stench, and I knew we had another porky incident on our hands. I hit him with my light, watched him saunter into the woods, brought the poles in, and tried to get some sleep. I vow to always stow my poles and pee on rocks!
Lichen Patterns On Red Rock
Our first attempt of Snowmass Mountain (in '04) was thwarted by poor planning, weather, and not enough peanut butter. We went back last year via the Snowmass Creek trail to climb, and summit Snowmass Mountain. Looking up at all the snow still on Snowmass' ramp, we were happy to admire the mountain from the lake while voracious mosquitos feasted on knuckles, ankles and anything deet free.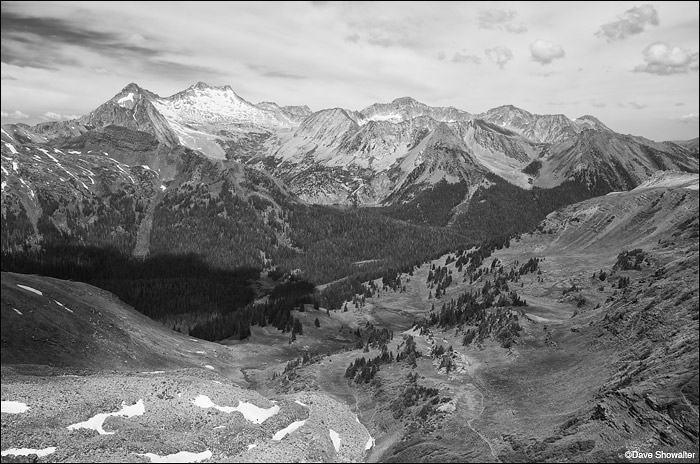 There were probably thirty people hanging out on Buckskin Pass, many of them day-hikers coming from Aspen. Why Not? It was 70 degrees above 12,000 feet with no wind.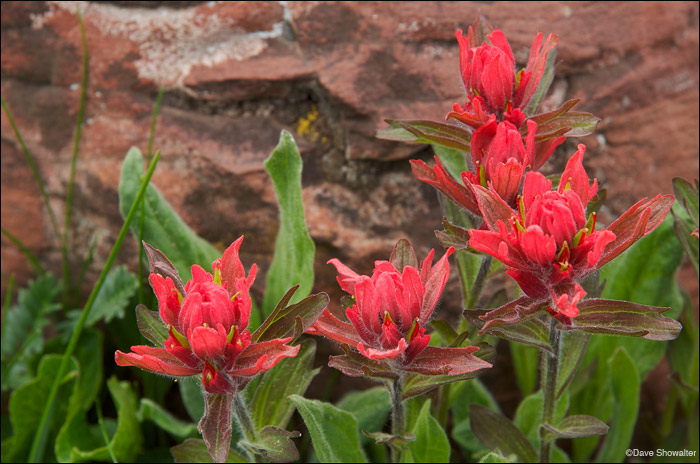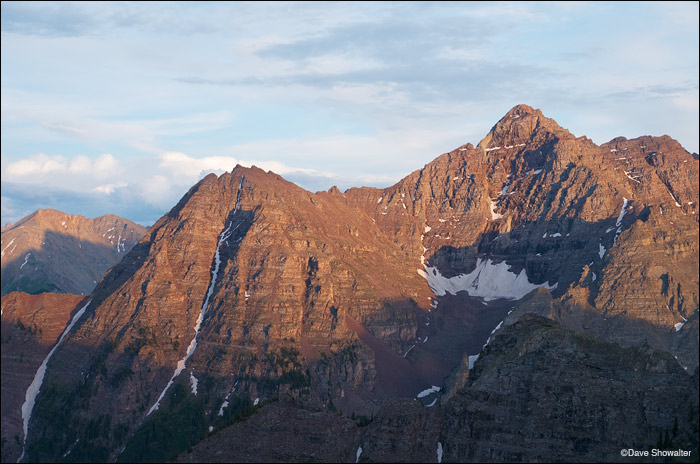 Rather than just finishing the loop and succumbing to the temptation of cold beverages and hot showers in Aspen, we added a side trip over Willow Pass to Willow Lake. Amazingly, we had an entire mountain basin to ourselves on the 4th of July! Sievers Mountain is the backdrop for Willow Lake and a great spot for a commanding view of Pyramid Peak.
Dinner at Willow Lake. Marla cooks something amazing, I watch…and eat. Not a bad arrangement.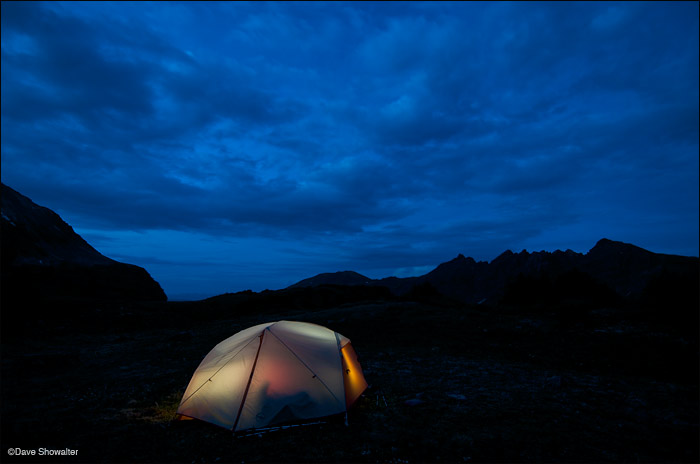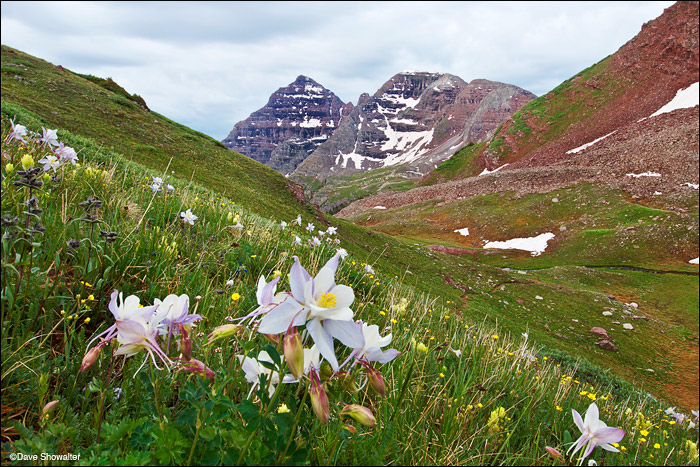 Aspen signpost near Maroon Lake, the beginning and end of our trip.
Is the Four Pass Loop one of North America's best? I suppose it depends on your taste in wilderness adventure. There's plenty of jaw-dropping scenery and it's a burly physical test, but it's a busy track and I think we'll be seeking more solitude elsewhere in the wilderness on future trips. Willow Lake was a highlight, not because it's any prettier than the rest, but for the peace and pure wilderness experience. It was cool to add Willow Pass twice, making it a six pass lollipop loop.