Las Baulas National Park Office at Playa Grande Pacific Coast, Costa Rica
In the oddest of circumstances, I couldn't imagine that we'd be watching Hangover II with strangers at a national park office on Costa Rica's Pacific coast in the middle of the night. But there we were, laughing out loud while we waited for a call from the beach patrol. Las Baulas National Park on Costa Rica's Pacific coast opens for high tides at night from October to February – leatherback sea turtle nesting season. After sunset on the beach and blackened tuna with jasmine rice and mango salsa, we arrived at 10:00 p.m. to check in and wait for a one ton turtle to haul herself from the depths of the Pacific at high tide, dig a hole, and lay eggs somewhere on this beach.
The ladies of Las Baulas work every other night through nesting season and stay until the tourists have left in early morning.
Our movie ended at 12:30 a.m., so we waited some more in anticipation of high tide at 1:00. Our group had come from around the U.S. and Central America; there were about a dozen of us. A few left during the movie, unwilling to wait for high tide and an opportunity to see the largest and most endangered sea turtle in the world. I asked for special permission to photograph the turtles, offered to share images, and told the guide that I'm a member of ILCP; all to no avail. Maybe it's not always about making photos… In spite of the 50/50 odds, we hung in and waited until the walkie talkie squawked something in Spanish. One of the ladies nodded and confirmed a location. Things started happening fast and we quickly learned why they had kept us from wandering around. We lined up single file behind our guide with one of the ladies from the office at the back of the line, and started walking towards the beach and our female turtle two miles away. We hung a left towards Tamarindo and walked in the deep sand above high tide under a full moon. As our eyes adjusted to moonlight, Marla and I whispered to one another about the spectacular night.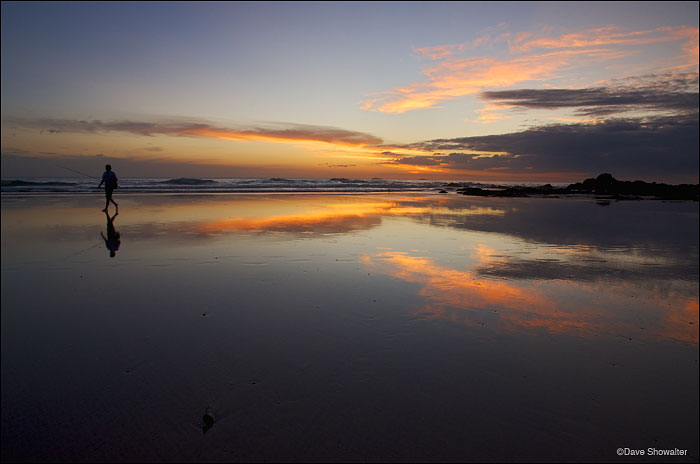 The pace was brisk and one in our group dropped out, complaining of leg cramps. We passed a few of the workers who patrol the beach, watching for both turtles and egg poachers. The beach is closed after 6:00 p.m. and it would be tough to sneak around with so many eyes watching. Many of the guides and turtle patrol are former poachers, now doing important work to save the species. Our guide and his circle of red light led us up the beach, the lights of Tamarindo getting closer, and we started to see a few more silhouettes. We reached a point where there were half a dozen people working in silence around disturbed sand; and there she was! They led us around the backside of the 5′ long turtle and arranged us in two rows within a foot or so of the nest site. She had already dug down about a foot and a half and gently scooped a finful of sand at a time to reach the exact right depth. Watching in amazement as biologists took measurements using red lights, I tried to engage my senses while our turtle scooped sand to the rhythm of the tide. I breathed in salt air cariied on a warm breeze, the only smell because of the high tide. At about 1:45 a.m.the turtle let out a big gasp and raised her tail an inch, then started dropping billiard ball-sized eggs, a few at a time. With mouths agape we peered into the hole as she continued laying eggs that got progressively smaller. The guides whispered about the size, which is totally normal – eventually 82 eggs filled the nest and she immediately started covering it back up, one finfull at a time. When we left the site around 2:00 in the morning, she was almost finished and covering the site so no predators would know that a turtle nested there in the night. There are plenty of creatures that love sea turtle eggs and human poaching is a big factor in their march to extinction.
The sex of most sea turtle hatchlings is environmentally dependent; sex is determined by the temperature in the nest with warmer temps favoring females. So, our warming climate is increasing leatherback turtle mortality (and most sea turtles) by reducing the number of males produced. Absent poaching and global warming, only 5% of leatherback hatchlings become adults; and if they don't get caught in a fisherman's net, the females will start laying eggs between 12 and 15 years of age.
On our quiet moonlit walk back to the office, my head was spinning with thoughts of our turtle now back in the sea where she eats at least 50 jellyfish a day and dives to over 3,000 feet. We talked about how she'll never see her young and the long odds the offspring will face, when our guide stopped to show us fresh tracks to the sea, baby leatherbacks from another nest starting their journey. We hope some of them make it back to this beach.
Here we are on Playa Grande at sunset, almost time to leave the beach. The trip was our 10th wedding anniversary and I'm grateful that we can share this beautiful life and these experiences.
Click here for more Costa Rica Photos.