There are mountains of our dreams that may never be reached and mountains of the mind that we just might stand on. Every one has its own special place etched into the soul. That's the thing about mountains, they wait until we're ready. Snowmass Mountain, in Colorado's Elk Mountain Range, took us nine years to climb, a "not quite" in our Jerry Roach book. We first attempted Snowmass while circumnavigating the Maroon Bells on the four pass loop in 2003 and were thwarted by weather and a shortage of peanut butter and jelly sandwiches. True story. This time around, fitness was in question, but we were determined and had been perfecting the art of suffering over the last decade. The latter, combined with determination driven by a "not quite" in the Roach book, and lots of peanut butter on Marla's homemade banana bread got us to the top this time around.
The eastern slopes route is class 3 and almost all scree and talus after bashing through willows around Snowmass Lake.
About halfway up the infamously nasty scree field, Marla gazes to Snowmass Peak, which appears taller than Snowmass Mountain from Snowmass Lake.
Climbing talus slopes en-route to Snowmass Mountain.
The approach to Snowmass Mountain can be described as "climb on top of a pool table, then another, and another…
Once you gain the connecting ridge, the remainder of the climb is on class 3 talus all the way to the summit.
Almost there! Marla ascends on talus near the summit. Geneva Lake is the blue orb below.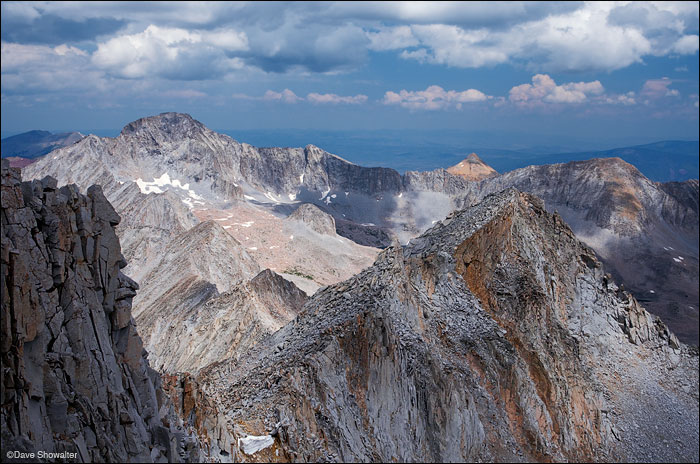 Snowmass is our 40th 14er, all of them together. I couldn't dream of a better climbing partner!
The official USGS summit marker.