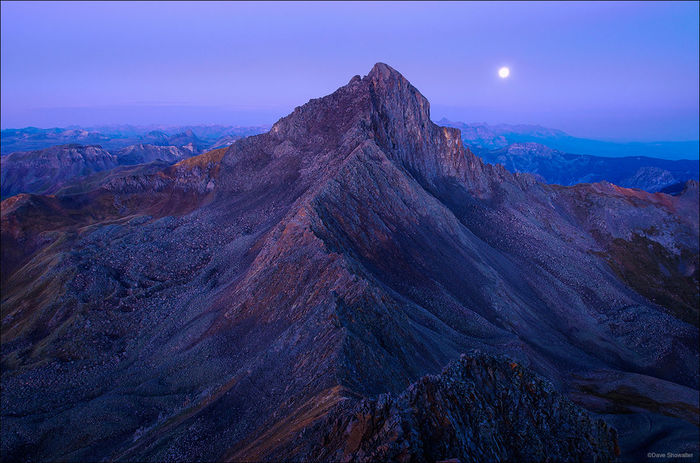 We have a tradition of taking a long walk – usually with some mountain tops mixed in for our Labor Day break. Winds of change led us to the San Juan Mountains in our home state this year, just about the only place around to escape fire smoke riding the jet stream from Idaho. The San Juans are such a spectacular range; you simply can't go wrong no matter what area you choose to explore. So after a couple of days in the Sangre De Cristos near Alamosa, we traveled to Creede and on to Lake City to launch a trip into the Uncompahgre Wilderness Area. Click more to see many more images: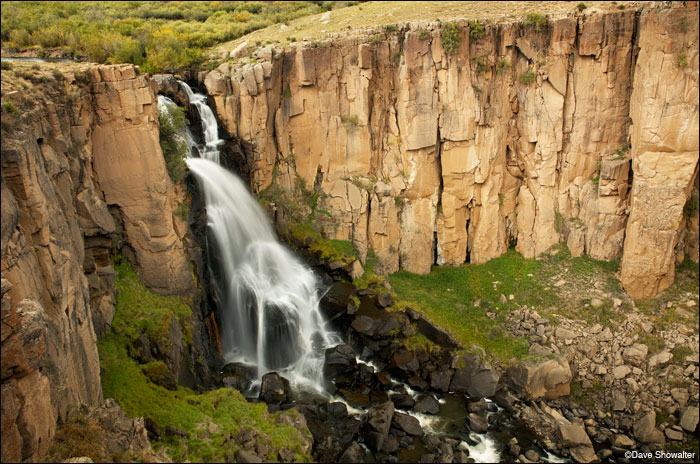 Lake City is known as a little Texas, a place that Texans have visited for generations and a lot of Coloradoans couldn't find on a map. It's a cool little town, with restored historic buildings and the San Juan Mountains for a backyard.

We waited out a rainstorm and hiked 900 feet up a vertical ridge for a view of Uncompahgre Peak (14,309′) on our first night.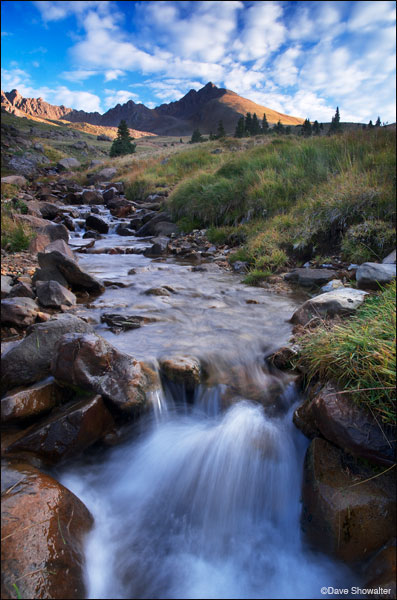 The scale of things is enormous – even for Colorado! Here Marla hikes on tundra below hulking Uncompahgre Peak (14,309′)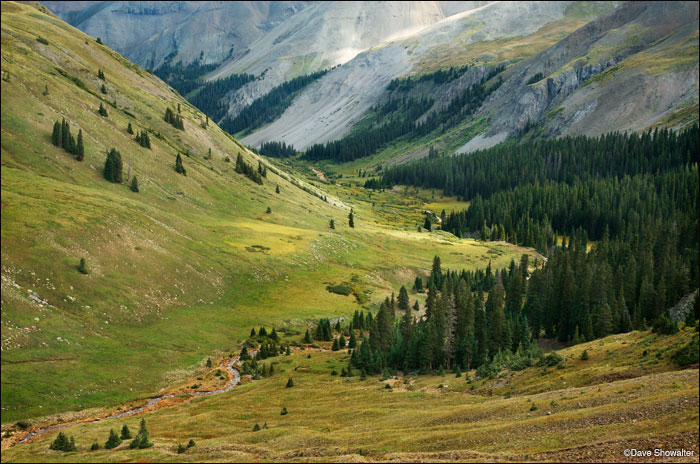 "Sheep Below Wetterhorn and Matterhorn." I thought I was losing my grip on reality when rocks started moving across the tundra. On closer inspection, the rocks were domestic sheep that graze the tundra around the high peaks. It's common to see grazing in National Forests, but this seems like a particularly sensitive area for such intensive grazing.
We eventually met the sheepherder, Mateo from Peru and talked until our Spanish vocabulary was exhausted. Mateo seemed like a gentle soul who told us he's been here for over a year and really misses his family. He has no horse and covers a vast area following sheep over rugged terrain on foot with his kind and trusty dog Diablo.
Camp below moonlit Wetterhorn Peak (14,015′). The moon was a "blue moon", the second full moon of the month. Our tent was set up hastily with a storm approaching and is every bit as tilted as it looks!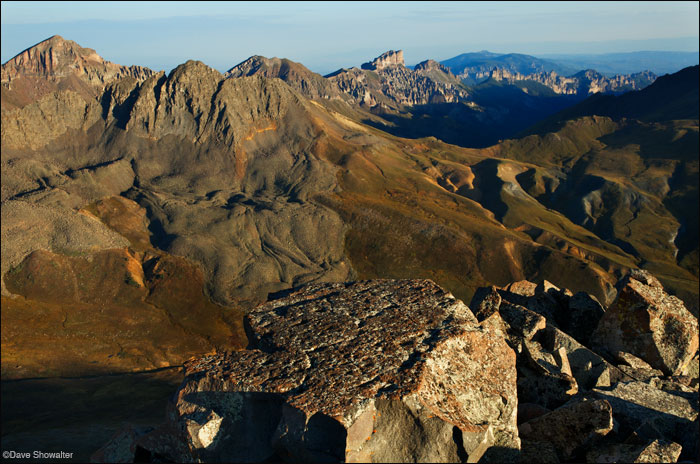 "Wetterhorn Panorama" Matterhorn Peak's pointy summit gives one the feeling of standing in the sky, surrounded by San Juan giants. In this image, Matterhorn's shadow streaks across the northwest flank of Wetterhorn Peak. (14,015′)
That's me shooting it hot on Matterhorn Peak (13,590′. Thanks to Marla for capturing the photo experience!
Marla and me on Matterhorn Peak. I know it looks like I'm up to something here, but I'm just trying to scoot around on talus before the shutter fires. Our climb started at 3:30 a.m. and the the sun's warmth made the summit a great place to hang out for a bit after photographing. I'm truly grateful that we can share these great experiences. Thanks to my lovely wife for being such a wonderful adventure partner! And yeah, she's stronger than me.
Time to go – How does all of this crap fit back into our packs?
We stopped to admire these changing aspen with their perfectly straight boles on the way out. The mountains around Lake City are known to change early, somewhere around mid-September, but late August seems really early! Folks are talking about how drought will affect the aspen fall color spectacle after this unusual summer. I suspect that Ma Nature's clock will be pretty much on schedule with quite a few leaves turning brown and shriveling up without ever changing to gold. I'm not ready for this epic hiking and fourteener climbing season to end.