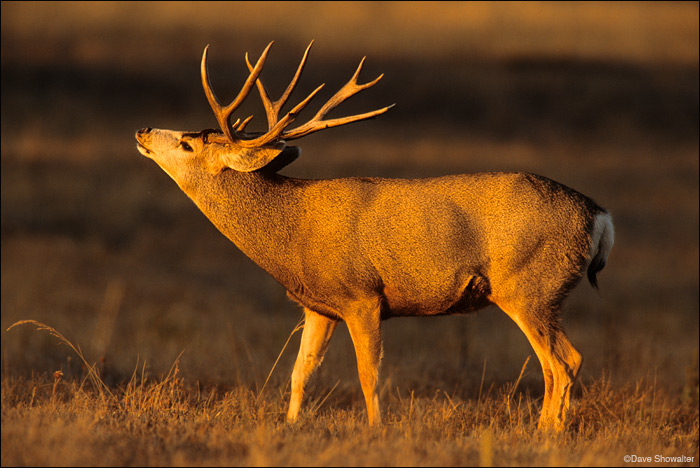 "We have a really big project and a tight deadline, love your work, and want to use several of your images. We'll give you full credit, which will give you good exposure." So, I ask "what's your budget." The voice says "we don't have a budget for photography. Usually people just give us photos to use." This actual conversation happens way too frequently and is remarkable in its sameness from one person to another. The person on the other end of the line gets paid a salary, health benefits, and travel expenses, has a 401K, yet expects me to work for free. So, I hit the reset button and educate another soul about professional photography.
The image in this post is unique, an event in nature that I've witnessed once and captured in a single image, one frame in the last waning seconds before sunset. The curved grass was a split second conscious decision while hanging a 600mm lens from a mount on my truck window. The lens, camera, truck, additional lenses, insurance, Apple computers, software, carbon fiber tripods, accessories (including the window mount), and know how to use all this stuff and make the image must be worth something. Imagine telling your doctor, lawyer, plumber, or mechanic with more than 20 years experience and a bunch of equipment and overhead that you don't have the budget to pay, but you'll give them full credit, maybe a nice post on Facebook with a happy face 🙂
There are far too many talented photographers willing to give away their work and just as many photo users willing to take advantage. Oftentimes after explaining what it means to be a full-time pro, including being compensated, and that everyone who touches my image is getting paid, we have a successful negotiation. Can we just agree that we're all in this together and enjoy a little mutual respect? Fellow photographers: know what your images are worth and charge a fair price, even if it means walking away from a few opportunities. Use Fotoquote software and take time to research the real value before quoting, or giving away your work for pity's sake. Consider it your contribution as part of the pro photography community. And buyer's: I'll make you a deal – be fair with me and I won't tell you that you're making way too much. Are you cool with that?