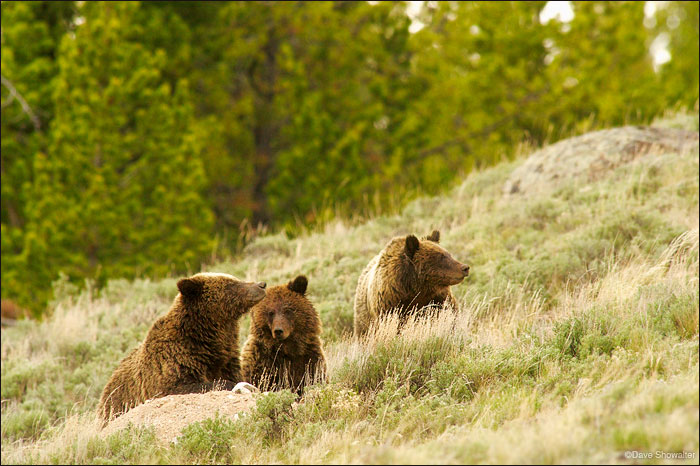 I just returned from two weeks in Yellowstone National Park, where I was working on my Sage Spirit book project. I was mostly focused on grizzly bears that are in the lower elevation sagebrush flats and meadows in spring. As summer heats up, it's more difficult to find grizzlies as they move higher. I visited "Quad mom" every day for the first week, observing the sow and her two surviving, and nearly grown cubs foraging in the sagebrush on Swan Lake Flats for hours each day. The bears would rock back and forth as they pulled on roots and dug for bugs, bulbs, rodents – anything to satisfy an omnivorous appetite. They spent a couple of days on a bison carcass across the meadow a half mile distant. I only saw the sow and sub-adult cubs one more time after they ran to the forest one evening. Maybe she sent the cubs out on their own and prepared to mate? We're fortunate to be able to observe these noble creatures – long may they roam!
Three grizzly bears – "Quad Mom" and cubs sniff the air in near darkness. The sow stood before the bears ran full speed for the forest. Ursus arctos horribilis
This grizzly boar was seen in the meadow two days after the sow and two cubs ran for the forest. Marla and I watched him travel the length of Swan Lake Flats to a bison carcass at the edge of the willows, pausing to sniff the air, then turning and rapidly heading to the carcass. We thought he was there to feed; but he rolled in the carcass, then emerged with a blond female grizzly. She led him uphill, traversing from sage to forest, then back to the sage where we watched them mate until they faded into night.
Grizzly Portrait : Prints Available
Although the direct stare of a grizzly bear is intimidating, this bear was moving from one foraging spot to another. We watched him turn over rocks and dig for forty-five minutes before he ambled into the forest. The grizzly bear is a keystone predator and an endangered species. Ursus arctos horribilis

Marla brought good luck in the second week and we shared a great experience watching this beautiful bear that was unconcerned with photographers nearby.
Even grizzly bears need to take a break…