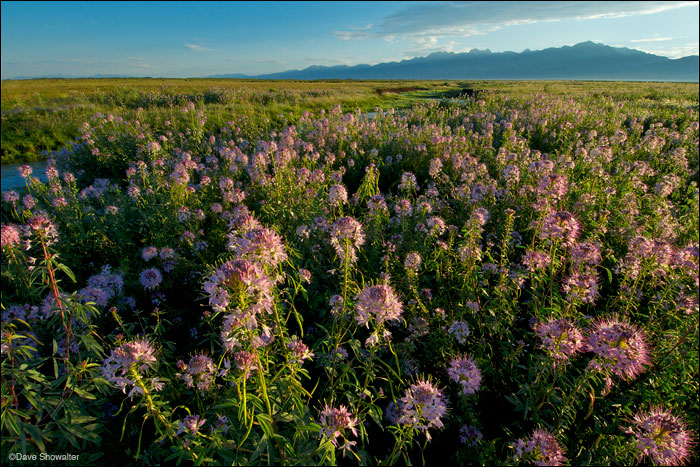 Part 2 of 3 – Sangre De Cristos
Needing a shower, chef-prepared meals, and a comfy bed, we naturally headed for Zapata Ranch, just down the road a piece from Crestone. It was great to see friends from previous visits while teaching at Zapata and view the ranch in a green summer season, with everything in bloom. After a month and a half of 90+ degree days on the Front Range, low 80's with an afternoon shower felt great! We enjoyed Chef Mike's gourmet creations and met nice folks from all over the country – even a group from Ireland. Zapata is a Nature Conservancy working ranch managed holistically by the Phillips family. They were running a woman's horsemanship clinic led by Cam Schryver. The clinic is one of many special events on the year-round calendar at Z-ranch. I'm fortunate to be able to teach a sandhill crane photo workshop with Michael Forsberg in the spring, another Z-ranch special event. I was hoping to get Marla on a horse – she loves to ride and it's been too long – what I didn't know was that I'd be riding too… on a cattle drive.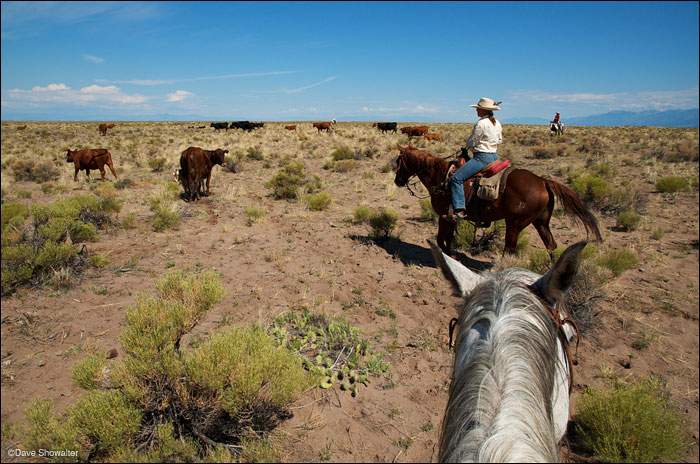 Drivin' Doggies : Prints Available
Danielle drives cattle to a new pasture on the Medano side of Zapata Ranch. The Nature Conservancy owns Zapata Ranch and the Phillips family manages the ranch holistically, with bison on the Zapata side and cattle on the Medano (south) side. Marla and I were on a cattle drive, one of the great guest experiences offered at the ranch.
Marla's turn to keep those doggies movin'. My horse, named Joe Buffalo is in the foreground.
Marla stylin' on Monte.
Riders before we reached the cattle.
The bison are very active going into August, about the middle of the annual rut.This time of year the "babies" are looking pretty big.
Marla made this photo of me while getting lost in a patch of bee plant.
The front door to Zapata Ranch all decked out in summer flowers.
Check in here and enjoy your stay, pard!